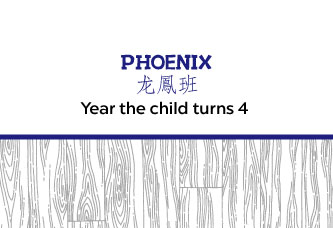 A Pure Mandarin program that is a step-up from the Dragon program, this class works on listening, speaking, reading and writing aspects of the Chinese language through hands-on activities, activities that engage the body, senses and mind, and a curriculum focused on whole-child development.
CHECK AVAILABILITY
BACK TO ALL PROGRAMMES
Pure Mandarin immersion

3-hour program

Emphasize on listening, speaking, writing and character recognition/reading skills through a variety of hands-on Chinese language and cultural activities

Curriculum content/goals covers all learning domains (in Mandarin): cognitive awareness, numeracy, language and literacy, fine and gross motor development, social-emotional development, and creative and aesthetics expression.

Curriculum is theme-based and close to children's lives, making learning a new language meaningful and easy for children.

Engaging language activities include Chinese nursery rhymes, story telling, poems (classic and contemporary), dramatisations, songs, music and movement and language games

Creative activities like art & craft, object exploration, group projects and learning through body/senses

Body-Brain Kinesiology activities to stimulate physical and cognitive development

Physical activities include gross motor activities (at gym) and fine-motor/pre-writing activities to promote overall physical development of child

Learning of Mandarin Phonics (Hanyu Pinyin 汉语拼音)

Learning of Chinese characters and practicing characters strokes writing and developing proper phrasing and sentencing skills

No prior knowledge of Mandarin required

No parental involvement and socks are required

Duration: 3 hours

Class size (max 16 students with 2 teachers)

Option to enroll for 3, 4, 5 days per week.