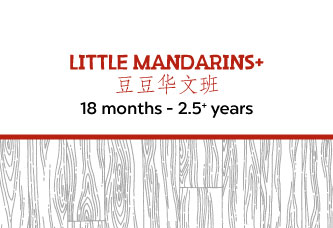 This is a shortened version of our Panda program and immerses toddlers in a pure Mandarin drop-off setting. Mandarin language is made fun, accessible and multi-sensorial to toddlers and the curriculum focuses on whole-child development
CHECK AVAILABILITY
BACK TO ALL PROGRAMMES
Learn the language through hands-on exploration, engagement of child's multiple senses, movement and active play.

Curriculum is organised by themes and themes are relevant and close to toddlers' lives, making learning more meaningful and fun.

Fun language activities through Chinese nursery rhymes/poems, story-telling, dramatization and songs.

Hands-on activities like art & craft, object exploration, group projects and learning through movement.

Body-Brain Kinesiology activities to stimulate physical and cognitive development

Physical activities include gross and fine-motor/pre-writing activities to promote overall physical development of child.

Mandarin Phonics (Hanyu Pinyin) through a fun proprietary program 幼儿拼音

No prior knowledge of Mandarin is required

No parental involvement and socks are required

Pure Mandarin program taught by native Chinese teachers

Duration: 1.5 hours

Small class size

Option to enroll for 1, 2, or 3 days per week.