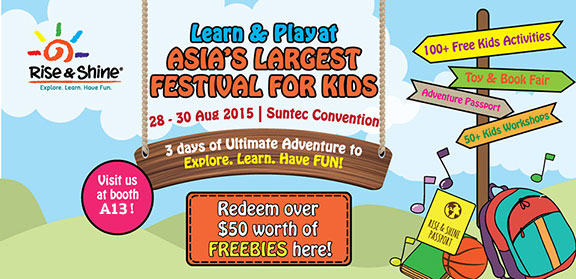 BibiNogs will be participating in the upcoming Rise & Shine 2015 festival from 28 to 30 Aug 2015. Drop by the BibiNogs booth (Booth A13) to find out about our programs and say hi to our teachers and staff!
We will also be conducting workshops on the first two days of the festival for parents and children to experience our two programs Mandarin Tots and Bilingual Babes.
Mandarin Tots
Date: 28th August, Friday
Time: 4.00 pm to 4.45 pm
Venue: Suntec Convention Hall 404
Sign up here

Bilingual Babes
Date: 29 August, Saturday
Time: 5.00 pm to 5.45 pm
Venue: Suntec Convention Hall 404, Kids Workshop Zone
Sign up here
Workshop registrants will also receive a goodie bag worth $20.
We hope to see you at Rise & Shine!